CFD of a micro-fuel injector
CFD of a micro-fuel injector
I'm running CFD of a micro-fuel injector using Solidworks Flow which doesn't include the fluid in its material database. I've found it surprisingly difficult to find a single reliable source for Diesel #2 properties and have been forced to collect bits and pieces from a variety of sources. Can anyone confirm the material properties below or point me to a comprehensive source of said properties?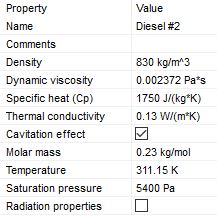 Assuming the properties above are within reason, I have *finally* managed to get my simulations working with Diesel #2 in place of the Ethanol I used in prior simulations. Besides the difficulty in finding Diesel properties, I was also suffering repeated crashes (abnormal exit from solver). As it turns out, it was because I didn't have the "cavitation" box selected on the material properties sheet. The error reports in Solidworks are obviously in need of improvement!
Below is a plot of injector simulation thus far with Diesel #2 through a 0.002" orifice. This orifice is available off-the-shelf in the form of a ruby jewel with 0.060" diameter allowing press-fit into the injector housing (see
http://birdprecision.com/orifice-styles/
). Though the results look pretty good, I'm currently running simulations of the smaller orifices they provide because I think the higher pressure will yield a better spray pattern.